Deals For Veterans Day
Reading Time: 3 minutes, 12 seconds
Deals For Veterans Day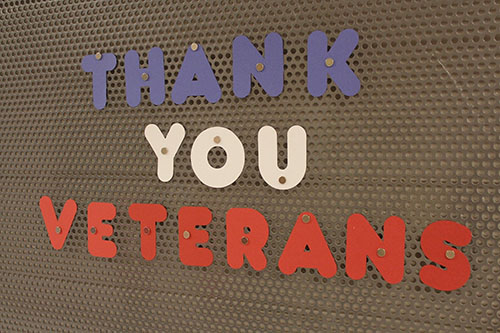 11-11-2019
10:30 am
Retailers around the country are thanking veterans for their service this Veterans Day with special deals, freebies and discounts. All deals benefit veterans and active service members, while some are also applicable to military families. Make sure to check with the restaurant or business to see if a military ID or military uniform is required to secure the deal.

These businesses will offer deals for veterans and active military on Veterans Day, Monday, November 11.

Applebee's
Free meal from a special menu Monday.

Buffalo Wild Wings
Free small order of boneless wings and fries Monday.

Chili's Grill & Bar
Free meal from special menu Monday.

Chipotle Mexican Grill
Buy-one-get-one free Monday, in-restaurant only.

Chuck E. Cheese
Free personal one-topping pizza Monday.

Cracker Barrel
Free slice of Double Chocolate Fudge Coca-Cola Cake or Pumpkin Pie Latte.

Denny's
Free "Build Your Own Grand Slam" from 5 a.m. to noon Monday. Dine-in only.

Dunkin'
Free doughnut Monday.

Hooters
Free meal from a special menu Monday.

IHOP
Free red, white and blueberry pancake combo from 7 a.m. to 7 p.m. Monday.

Little Caesars
Free Hot-N-Ready Lunch Combo between 11 a.m. and 2 p.m. Monday.

Marco's Pizza:
50% off all menu price pizzas Monday with promo code HONOR50 for veterans.

Olive Garden
Free entree from a select menu Monday.

Red Lobster
Free appetizer or dessert Monday for dining in and takeout orders picked up in-restaurant Monday.

Red Robin
Free Red's Tavern Double Burger with fries Monday.

Starbucks
Veterans, active service members and their spouses receive a free cup of coffee Monday.

Texas Roadhouse
Free lunch from special menu 11 a.m. to 4 p.m. Monday.

---

Kohl's: 15% to 30% off
Kohl's plans to say thank you to the United States Armed Forces in a big way with a five-day savings event. Each Monday, Kohl's offers military service members, veterans and their families 15% off for their weekly military Mondays. From Thursday through Veterans Day, Kohl's is doubling that discount to 30% off. The discount applies not only for veterans but also active duty service members and their families.

Amazon: $40 off Prime membership
From now until Veterans Day, verified U.S. veterans and military can purchase a year of Amazon Prime for $40 off. Those who verify their eligibility can sign up for Prime at $79/year (normally $119/year) for the first year.

Target: 10% off
Target is offering 10% off in-store and online purchases to military members and their families now through Monday.

A.C. Moore: 15% off
The retailer offers 15% off every time military members shop with a military ID.

Great Clips: Free Haircut
Veterans and military members can either receive a free haircut or a free haircut card to use later when they visit a Great Clips store on Monday. After getting a haircut, any Great Clips customer can receive a free hair clip card to give to a veteran. These cards are redeemable until the end of 2019.

Joann: 15% off
Get 15% off all year by signing up for Joann military rewards.

Michaels: 15% off
Get 15% off in-store purchases all year with military ID.

Walgreens: 20% off
Veterans, military and their families get 20% off eligible items when using their Walgreens rewards card in stores between Friday and Veterans Day.

Bed Bath and Beyond:
25% OFF your entire in-store shopping cart for a full weekend of Veterans Day holiday shopping from Saturday, Nov. 9th through Monday, Nov. 11, 2019.

7-11: Free Big Gulp, Slurpee, or Medium Coffee.

These deals are correct at the time they were published but are subject to change. Contact the retailer with any questions.
---
Resources
https://6abc.com/5678733/?fbclid=IwAR0uZx3AtRyg9vEm9M3N8VpCWLo8-TdeqLn64w0hCZ0cYr7QPqCZBKJW3-M
https://www.mystateline.com/news/national/veterans-day-free-food-and-services-for-active-duty-personnel-and-veterans/?fbclid=IwAR2iFP1kH2_D-GkUKwFWRVyHAHJ2w7kgHjrnCFCNe5Cfb2mI-K2tJsLvJuQ
---
Posted In: