Benefits of Custom Website Design
Reading Time: 5 minutes, 26 seconds
Benefits of Custom Website Design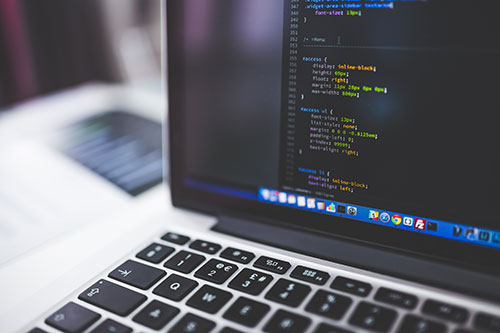 06-11-2020
10:00 am
In this day and age, it's crucial for your business to have a website. Not only does it showcase your services and products but also adds a sense of professionalism for your business. When consumers search your website to learn more about your business and how you can help service their needs, is it enough to stand apart from your competition? We understand that your business is unique and we're here to help you showcase your brand through custom design elements rather than those cookie cutter templates or pre-configured sites.
Custom Website Design Rockford, IL
There are two ways to create a website for your business: a "do it yourself" template or custom development. The easy way would be to choose a template, add your content, and host it on a server to be available for your customers. While it really is that simple, is it effective? By hiring a professional website development company you'll be able to stand out while being able to deliver unique features on your website that other businesses may not be able to do with a template.
Lets talk about other benefits your business can get with custom website design and here are our favorites:
Professionalism For Your Business
Having a custom website design will help to enhance the professionalism of your company and it's more attractive that a standard design that templates offer, simple. Having the look of a professional website not only will increase your leads but convert those leads into clients all by the legitimacy of your business. Once you take a look at the difference between a standard website design and a custom one, you will see that that the difference in professionalism is astounding. Sure, there are some neat templates that have a professional look to them but are they flexible and easy to make changes to to help stay current?
Flexibility With Changes To Stay Current
If you plan on growing and updating your business overtime to help it stay relevant with the times, shouldn't you expect the same with your website? Unfortunately, when you use a template, you're limited with certain features and functionalities and it makes it difficult to make necessary updates to stay up to date. By having a custom website built, you'll never feel "stuck" with what you have. Making updates and custom changes that are necessary in order to keep up website trends is easier when you hire a professional website developing company. All websites need to be updated overtime, not only to keep up with looks and trends and enhancing your users experience but for search engine optimization (SEO) and google enforcing new algorithms each year.
Ranking Better On Search Engines
Some problems with template based websites are that they aren't set up to help you maximize your website with proper search engine optimization (SEO). While they may be easy to set up, is your company really getting the most out of them? Custom website programmers are aware of the issue (or lack of SEO) that templates offer and know what to build in the back end in order to help with the search engines and help you gain placement overtime. What about front-end SEO? Your website design should also have a focus around front-end search engine optimization that includes keyword rich content that the search engines (like Google) are looking for. If you're not sure how to set up proper optimization for your website, hire a company who does and who will help set you apart from your competition.
Standing Apart From Your Competitors
When using a template to create a website, you're most likely using something that tons of businesses have used before, including your competition. That's not a great way to stand out and stand apart from them. Your visitors want a sense of uniqueness and using a template won't accomplish that. A great way to stand out is hiring a company who specializes in custom website design. They can help give you an upper hand by creating something that's geared towards your demographics and audiences. Not only that but they can help create unique features and functionalities not only for your but for your visitors and can easily make tweaks to improve user engagement and conversions.
Customer Support
Think about this, you've spent hours developing a template-based website (not to mention hours reading on how to set it up correctly) and then all of a sudden, the website isn't working. What happened? Was it due to a server crash? Is a plugin (that you've probably paid for) not working effectively or set up correctly? What do you do now? Who do you call? That's just a few of the questions that will go through your mind and it's all up to you to figure out how to fix it. However, with a custom website design company, all of that hassle is easily eliminated. Having a go-to person for your website will not only save you time and money, but possibly a unwanted headache too.
Website Security
Are you sure your website is protected? Security should be a top priority of yours and building a template based website won't be as secure as hiring a custom website design company to ensure the security. From setting up a digital certificate (SSL) properly for your visitors safety or creating the ability for secure payment methods through your website, custom website developers will go to any length to ensure that your website is secure not only for your and your business but for your clientele as well.
We understand that using a standard template may be easier, faster, and possibly cheaper, however it may hinder your business in the long run rather than helping it. We have a belief that a custom website design is more important for you and your business because it's built around showcasing the uniqueness for your business and your brand. If you're interested in learning more about what our website design services entail then contact us today and see how we can show you the difference between a templated website and a custom website and what it can do for your business.
---
Posted In: