Best Laptops under $500 for 2020
Reading Time: 3 minutes, 59 seconds
Best Laptops under $500 for 2020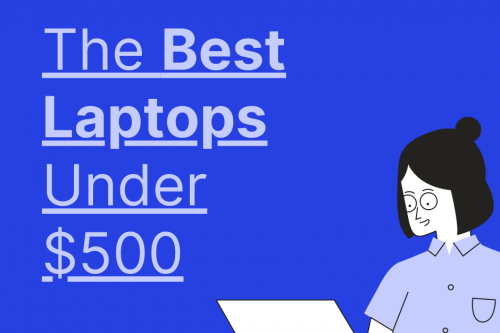 06-29-2020
09:20 pm
(CNET 2020) If you're still working at home, you might find yourself in need of a better laptop. If you're like the rest of us, your funds are probably lower than normal too. Fortunately, CNET has done the work for you and compiled a list of the best Windows laptops and Chromebooks under $500. The best part? These laptops can be shipped to your home within 10 days.
Considering all specs and options -- from battery life to storage space, screen resolution, screen size, core processor performance and general machine and battery performance -- these are a few of our top picks for 2020's best Windows laptops and Chromebooks under the $500 budget, along with their pros and cons.
Acer Aspire 5
The 2019 Aspire 5 15-inch clamshell includes the latest generation AMD Ryzen 3 processor, the 3200U, with its modern Vega graphics processing. Its 4 GB RAM and 128GB solid-state drive storage don't allow for using a lot of programs or lots of browser tabs open simultaneously, but this 15-inch screen model weighs less than 4 pounds. And $350 is a good price for the performance you get. It's a really popular model, so it tends to play now-you-see-it-now-you-don't when it comes to availability.
HP Chromebook 15
For its price, HP's 15-inch Chromebook offers good components and features -- a Core i3-8130U with 4GB RAM and 128GB storage -- plus a comfortable keyboard with a number pad and fantastic battery life. Note that this only has Wi-Fi 3 (2.4GHz), but if it becomes a problem you can buy a USB adapter to add better networking.
Acer Chromebook 715
For under $400 (though higher-end configurations can break the $500 price ceiling), this Acer Chromebook is practically a steal. It's a thin and lightweight laptop, but it's sturdy, and has great battery life. Plus, it has a fingerprint reader and Citrix certification for IT-minded organizations. Note that the price changes frequently, but usually remains within the $350 to $425 range.
Acer Spin 3
With 4GB memory, a quad-core Core i3-8130, real HD display and 128GB SSD, this 14-inch two-in-one is a reasonable price for a two-in-one that may last you a little longer than the rest of the cheap models -- as long as you don't need something that can do any heavy lifting. It's a decent Windows option for web browsing and streaming video, especially when the price drops as low as $300.
Asus VivoBook 15
This one goes in and out of stock rapidly. The cheaper Core i3 configuration sold out, then the slightly more expensive AMD Ryzen 5 model went. Now it's down to a Ryzen 3 3200U, 128GB SSD and 4GB memory, but it still has the real HD screen -- and the latest price is really good. Don't confuse it with the thinner, lighter, more expensive Vivobook S15.
Asus Chromebook C423
You get the basics with this attractive, functional Chromebook -- a Celeron N3350 processor, 4GB memory and 32GB storage -- for about $300. It doesn't have a real HD screen, just 1,366x768 pixels, but text should still look pretty sharp as it's only 14 inches across.
Dell Inspiron 15 3593
For around $400, you get a classy 15-inch screen laptop with a reasonable configuration -- an Intel Core i3 processor, 8GB RAM, 128GB SSD plus 1TB HDD storage and a real HD display.
HP 15
The Windows analog of HP's 15-inch Chromebook, the HP 15 lacks a real HD display -- it's only 1,366 x 768, not 1,920 x 1,080. But the rest of the specs are decent for around $400, as long as you only have light needs, such as web surfing and email. They include a 10th-gen Core i3-1005G1, 4GB RAM and 128GB SSD storage.
Samsung Chromebook 4
While you probably wouldn't want a work system of your own as small as 11.6 inches, it's a good size for smaller kids and has Wi-Fi 5 with 2x2 antennas for a more stable signal -- and that's key for a Chromebook. Other specs include an Intel Celeron N4000, 4GB RAM, and 64GB storage. Plus, it has a microSD card reader if you need to augment the storage space.
Lenovo S340 Chromebook
Usually, sleek Chromebooks come at cheap Windows-laptop prices, which are high prices for Chromebooks. The 14-inch S340 offers basic Chromebook specs -- a Celeron N4000, 4GB RAM, 64GB storage -- but in a modern design, for less than $300. It also has a real HD screen, though it uses a TN (twisted nematic) panel. TN doesn't have a great viewing angle or colors, but it's fast and high contrast.
Lenovo IdeaPad 15-Inch
Slim, stylish and with a decent configuration for $380, the IdeaPad 330's 8GB RAM, dual-core but current-generation AMD processor and 256GB of storage is good for this class.
Sourced:
https://www.cnet.com/news/best-windows-laptops-and-chromebooks-in-2020-for-under-500/
---
Posted In: