Ever wonder why ink is so expensive?
Reading Time: 2 minutes, 41 seconds
Ever wonder why ink is so expensive?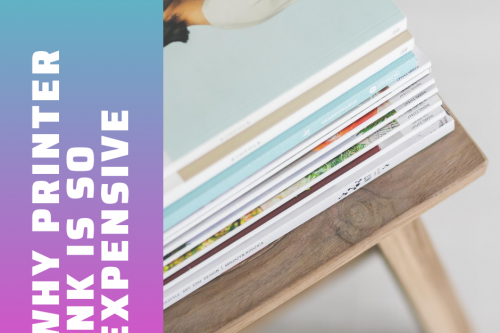 07-24-2020
11:00 am
(CNET September 2019) You bought a printer to make your life easier, in fact, you got a deal on it! Now you're a printing pro, but the ink is breaking the bank. Why is the ink so expensive??

David Connett, former editor of The Recycler has been lobbying for change in the printer-ink industry for years. When inkjet printers were created in the 1960's, they were for consumer use. Society needed a printer that created documents with permanent ink with photo quality. Hewlett-Packard achevied this feat, and have been in the game ever since.

That first printer cost about $1,000. Today, you can buy a brand new printer for about $35. However the ink you need for these printers can cost $12,000 for a gallon. (We don't buy them by the gallon, but still). David Connett says the reason is greed. The model for ink creation and distribution is outdated and inefficient.

It all makes sense really. Sell the printer at a low cost, since printers are typically a one-time purchase item in a household - sell the consumables (the ink) at a much higher cost to make up for the cost of the printer, plus profit. The cheaper the printer, the more expensive the consumables. For example, the HP Envy 4520 all in one printer sells for about $70 but takes about $120 to manufacter. This means they have to sell the consumables at a higher cost to make up for it.

Once you've bought a printer, now you're stuck in a cycle. You have to buy the ink, or the printer won't work. Sometimes, printers have stops so that even if the color you don't need is out, you can't print anything else.

And don't even think about buying third party ink! Ink from third parties are often cheaper, but manufacturers have installed firmware updates in their printers to prevent the use of cheaper ink. Meaning, your printer won't work with the cheaper, off brand stuff.

Manufacturing ink only costs about $30-$40 a liter, and a lot of the ink never gets used for printing. Only about half the ink is getting used out of that cartiridge - waste and runoff from printing wastes ink and sometimes the printer will say the ink is out even if there's ink left in the cartridge. Not to mention the size of the cartiridge is shrinking, but still being sold at the same price.

It's a broken system that prays on the pocketbooks of consumers and needs to change. Business Insider reached out to HP for comment, and they released this statement:

" Original HP ink and toner cartridges deliver the best possible printing experience for customers. We make significant investments in R&D each year to provide the highest levels of print quality, safety and environmental sustainability. When customers purchase HP, they are reducing plastic waste and constributing to a circular economy. And we work tirelessly to maximize value for customers, including Instant Ink, our "ink delivery" subscription service which includes ink, shipping and recycling."

So what do you think? Are printers a good investment or can you live without?

---
Posted In: