Security Alert: Garmin services hacked
Reading Time: 0 minutes, 54 seconds
Security Alert: Garmin services hacked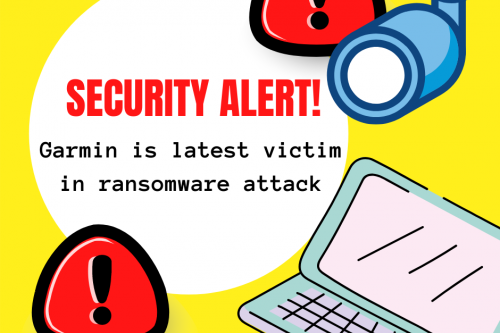 07-27-2020
02:15 pm
(Business Insider, July 27, 2020) Today, Garmin announced that it has been the victim of a cyber ransomware attack. The attack occured on July 23 and encrypted some of the company's systems. The company says that it hopes to be back to normal within a few days - but what happened?
Garmin, a fitness tracker company - formerly known for their GPS systems - suffered an outage last week with their systems. Consumers were unable to access their accounts with the outage, which was later confirmed by Garmin was the result of a ransomware attack. Luckily, no consumer information was comprimised, but the hacker was demanding $10 million.
In a ransomeware attack, the hacker will hold information or systems from the victim until a ransom is paid. In most cases, money. It's not certain whether Garmin paid the blackmailer, but they have somehow received the decryption key to get their systems back online.
Members of Evil Corp, the criminal group that's suspected of being behind the hack, where indicted in 2019 by the U.S. Treasury.
You can find the whole story
here
.
---
Posted In: