How to travel during COVID
Reading Time: 3 minutes, 55 seconds
How to travel during COVID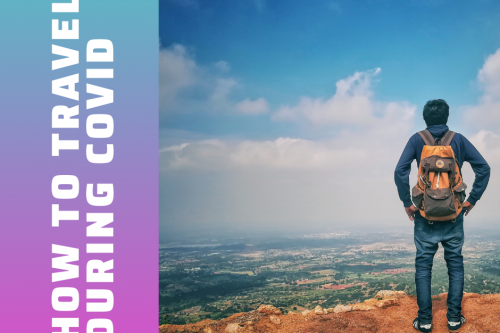 10-07-2020
02:30 pm
(CNTRAVEL, 2020) As this awful year comes to a close, you may find yourself with a large balance of unused vacation time. You're not alone - a lot of things were cancelled this year, and if you're like me, you want to get away before you have to surrender that valuable vacation time. But how can you take a getaway safely during these times?
While you might want to forego a big trip, there are still many getaway destinations within driving distance that you can go and enjoy nature (hello national parks, Door County perhaps?). That being said, there are certain things you need to consider before traveling anywhere.
1. Read up on travel restrictions
Stay up to date on federal, state, and local recommendations and restrictions. If you're driving to another state, make sure you know which mandates are currently in place. Is there indoor dining? Are their hotels open? There are also restrictions for people traveling to and from "hotspot" states. Hawaii and Florida may require those who have recently traveled or are arriving from hotspot states to quarantine for 14 days upon arrival. There may also be stay-at-home orders, which will definitely affect your travel plans.
If you're trying to travel internationally, there are countries that are open to US travelers, including Cambodia and Barbados - but it will cost you. These countries require medical deposits before arrival. Ultimately, we wouldn't recommend international travel at this time.
2. Check with your doctor
During this pandemic, immunization rates have decreased, particularly in children, as many kids skip routine check-ups. Your doctor knows your past history and will be able to advise on precautions for travel, or if it's even safe for you to do so.
3. Know everyone's risk status
Make sure you're not traveling with people who are at hightened risk - like the elderly, newborn children, or those with comprimised immune systems. Also make sure that you're not coming back home to these individuals without being able to quarantine. Many people want to visit their loved ones, but that may not be a smart idea if you're coming from a hotspot or if you're visiting someone that is high risk.
4. Avoid coronavirus hotspots
Choose your destination wisely. The World Health Organization (WHO) suggested that rates of COVID-positive tests be less than 5 percent before visitors are welcomed. Stay up to date with the infection rates of your destination. It's also important to note that restrictions and guidelines can change in minutes - so always have a backup plan in case things get hairy.
5. Consider location and crowds when booking accommodations
There are a lot of discounted rates to encourage travel - in addition to new rules - but understand that central locations of hotels like elevators, pools, and lobbies can get crowded. Always be prepared when going to and from in a hotel or any communal housing. Have your mask with you at all times and plan your day around non-busy travel times. If you can/want to, try booking more remote stays from an Air BnB, packing your own sheets, and opting for contactless check-in if available.
6. Consider your mode of transportation
It's impossible to know if one mode of transportation is safer than others. But there are higher risks when in transport. Bus/train stations, rest stops, and airports are all places with a lot of people and surfaces. Short distance road trips are best, you can stay in your own car and have more control over your surroundings. If you are flying, choose airlines that are leaving seats open for social distancing (like Delta). Also book flights that allow last minute cancellation or re-booking, in case something happens.
7. Pack a pandemic essentials bag
If you're flying, pack an extra change of clothes, a blanket, and sanitizing wipes in your carry-on or personal item. Stock up on your pandemic essentials well in advance, knowing that shortages and long-lead times for delivery are possible. Staples include hand sanitizer, face masks (use disposable ones for airports), wipes, health insurance cards, a thermometer, and latex gloves. Make sure you bring plenty of snacks and drinks with you to prevent unnecessary stops.
8. Plan outdoor activities
Planning and booking ahead is everything. Opt for outdoor activities. Things like popular landmarks, restaurants, and other attractions may be closed or unsafe right now. Check on hours for all activities, as some places might have reduced hours or require reservations. Hiking, camping, biking, or national parks are a great way to spend the day away from people while it's still warm.
For more tips and tricks on travel, you can read the full article
here
.
---
Posted In: