Are you familiar with the Nextdoor's Annual Treat Map?
Reading Time: 2 minutes, 12 seconds
Are you familiar with the Nextdoor's Annual Treat Map?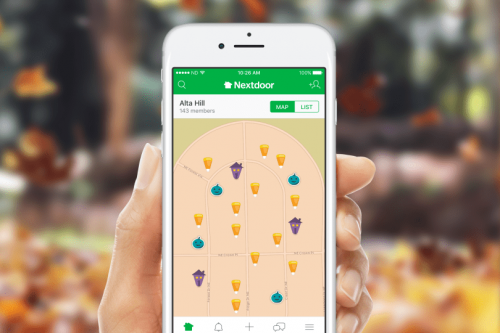 10-22-2019
10:00 am
Every October they launch an Annual Treat Map that helps your neighbors know if you're partaking in the most neighborly holiday of the year!
If you're unfamiliar with Nextdoor, it's one of the best way to stay informed about what's going on in your neighborhood—whether it's finding a last-minute babysitter, planning a local event, or sharing safety tips.
If you're new to the Treat Map (or Nextdoor all together), we're here to help! The Treat Map from Nextdoor has become a go-to guide for who in the neighborhood plans to celebrate Halloween either by passing out treats or hosting a haunted house. On the hunt for sweets? Keep an eye out for the homes that are marked with a candy corn. Eager for the scare of your life? Visit the homes marked with a haunted house to get your share of scare this Halloween.
And, for the second year, neighbors passing out non-food treats can also spread the word through the Treat Map. According to FARE (Food Allergy Research & Education), one in 13 children has a food allergy preventing them from enjoying many of Halloween's most popular treats. By providing non-food treats, neighbors can help create a safe, fun alternative for children with food allergies and other conditions for whom candy may present a problem. So, if you're looking for treats that are allergen free, check out the homes marked with a teal pumpkin.
To add your home to the Treat Map, follow these simple steps:
If you're already a Nextdoor member, simply sign into your account. If you are not yet a member, sign up and verify your address to ensure you don't miss out on the fun: nextdoor.com/treat.
Once signed in, visit your neighborhood map in the upper right-hand corner of your screen on web. If on mobile, tap the "More" menu in the bottom right hand corner of the navigation bar, then tap "Treat Map". Once on the map, you will be given the choice to mark your home with a candy corn, haunted house, or teal pumpkin.
Encourage your neighbors and friends to mark their home with the appropriate icon on the map so you'll know exactly who is handing out treats or hosting a haunted house.
On Halloween, take the trick out of the treat and use the Treat Map to make your way through the neighborhood to score the best candy, treats, and scares.
Wishing all of our neighbors a fun-filled October!
Source:
https://blog.nextdoor.com/2019/10/01/time-to-score-those-treats-nextdoors-annual-treat-map-is-back/
---
Posted In: