Social Media Statistics from 2019
Reading Time: 5 minutes, 5 seconds
Social Media Statistics from 2019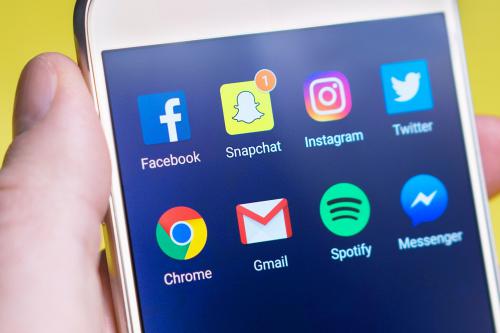 11-27-2019
10:30 am
Social media has changed the way we live our lives. From the way we get our news to the way we interact with our loved ones. Social media is everywhere. It's unavoidable, it's powerful, and it's here to stay.
Question is, is it worth investing in social media for your business? Should social media marketing be a focus area for your marketing strategy in 2019? The answer depends on your customers, but in no way should social media marketing be ignored.
Let's take a look at the top social media statistics for 2019, and how they can help shape your year ahead!
How Many People Use Social Media?
Answer: 3.2 Billion
The usage of social media around the world is ever-increasing. It's without a doubt one of the most popular online activities that users engage in. Social media statistics from 2019 show that there are 3.2 billion social media users worldwide, and this number is only growing. That equates to about 42% of the current population.
Facebook is the Market Leader
Facebook Remains The Most Widely User Social Media Platform; Roughly Two-Thirds of U.S. Adults (68%) Now Report That They're Facebook Users
Facebook has been shaping the social media landscape since its launch and is continually evolving to meet its user's needs. With over 2.32 billion active monthly users, Facebook remains the most widely used social media platform. Active users are those that have logged into Facebook during the last 30 days. Roughly two-thirds of U.S. adults (68%) now report that they are Facebook users (Pewinternet, 2018). Interestingly, Facebook was also the first ever social network to surpass the one billion active user mark, reaching this milestone in the third quarter of 2012.
Daily Usage by Generation
90.4% Millennials
77.5% Gen X
48.2% Baby Boomers
Millennials continue to be the generation with the highest use of social media, and also the broadest access to smartphones. Gen X, on the other hand, are more likely to be using tablets. Lastly, Baby Boomers are also bridging their gap with technology and are increasingly becoming more familiar with social media platforms.
Time Spent on Social Media per Day
2:22 (Hours:Minutes) Per Day is Spent on Social Networks and Messaging
In this day and age, we're all slowly becoming social media addicts. Whether it's scrolling down our bottomless Facebook feeds on the subway, or posting the perfect brunch photo on Instagram before eating, social media has become inescapable. This social media statistic uncovers that an average of 2 hours and 22 minutes are spent per day per person on social networks and messaging.
Your Customers Are Using Social Media
54% of Social Browsers Use Social Media To Search Products
Social media is growing in terms of its reach and impact, and this statistic is here to show just that. 54% of social browsers use social media to research products (GlobalWebIndex, 2018). More buyers are joining social media networks and looking for reviews and recommendations. That's why it's essential to have a prominent online presence on various social media platforms. The key is to find out which social media platform your target market is using most often and how to make the most out of it.
The Impact of Positive Customer Experience
71% Of Consumers Who Have Had A Positive Experience With A Brand On Social Media Are Likely To Recommend The Brand To Their Friends
One of the ways that your business could benefit from social media marketing is by providing the best possible customer service. The idea here is to manage your online presence and make sure that you keep in touch with your audience through social media platforms. This includes responding to comments, mentions, and messages. 71% of consumers who have had a positive experience with a brand on social media are likely to recommend the brand to their friends and family (Lyfemarketing, 2018). By interacting with customers through social media platforms you show them that you care. This step could go a long way in terms of building positive relationships with customers. So, don't ignore your followers and try to get back to them in a timely manner.
Influencers Help Build Brand Trust
49% Of Consumers Depend on Influencer Recommendations on Social Media
Influencer marketing is having a big moment now. Brands are increasingly turning to social media platforms for their marketing, and there are good reasons why. 49% of consumers claim that they depend on influencer recommendations on social media to inform their purchasing decision (Fourcommunications, 2018). This means that if consumers feel confident in the recommendation from an influencer, they'll be more likely to purchase the product. This social media statistic makes it evident how brands could piggyback on the power of influencers to reach out to their customers.
Instagram Stories Usage
Daily Active Instagram Stories Users Increased From 150 Million in January 2017 to 500 Million Daily Active Stories Worldwide in January 2019
Stories are a big deal on Instagram. They let you share the moments of your day, without saving them to your profile. The following social media statistic shows us the number of daily active Instagram Stories users, which has increased from 150 million in January 2017 to 500 million in January 2019 (Statista, 2019).
Social Media Users Via Mobile
91% Of All Social Media Users Access Social Channels Via Mobile Devices. Likewise, Almost 80% of Total Time Spend on Social Media Sites Occurs on Mobile Platforms
The demand for mobile-friendly content across social media is rapidly increasing, and justifiably so. 91% of all social media users access social channels via mobile devices. Likewise, almost 80% of total time spent on social media sites occurs on mobile platforms (Lyfemarketing, 2018). Smartphones and social media are evolving side by side, and your brand should make sure to keep up. Mobile friendly interfaces are the way forward, and if you're marketing online you need to make sure that your content and layout is optimized for mobile. And why not? People take their smartphones everywhere with them. If you want to be accessible, you have to keep mobile in mind.
---
Resource:
https://www.oberlo.com/blog/social-media-marketing-statistics
---
Posted In: